Sauna Pants Hot Sweat Wrap Slimming Tummy Buttock Thigh Weight Loss 
Orange Color







****RM 63.00 

Shipping Charges :

Peninsular : RM 8

Sabah /Sarawak : RM10/RM11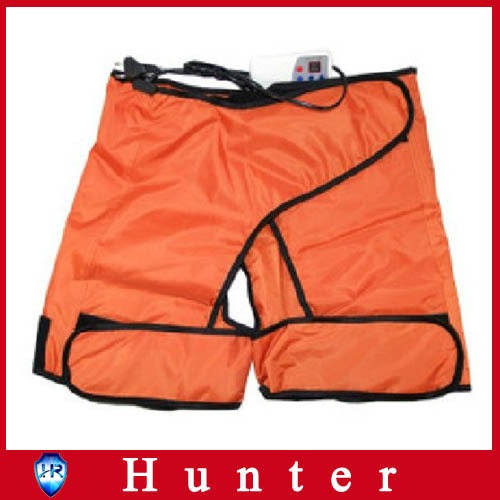 Sweat away unwanted fat, eliminate cellulite, lose weight and ease muscle pain with "Far Infrared Ray" technology.
Just wear the Sauna pants choose your desire temperature and let the product do all the slimming work. After a few minutes, you can lower the temperature to your liking.
It will stay firmly in place with the secure Velcro attachment. After using this item, your metabolism will be enhanced and the pounds will just melt away.
Sauna Pants will make you sweat quickly in the areas where you need it to slim most abdomen, waist, back and hips, helping you to shred water and potentially lose weight.
Description:
Adjustable to fit waist from 28"-52" and thighs from 12"-26"
The Sauna Pants will automatically stop after 50 minutes usage.
Maximum temperature 70 degree. When the temperature reach 30 to 50 degree, the energy will infiltrate into 4cm to 7cm deep of the muscles and skin. 
Fully dissolve the surplus grease to achieve the purpose of keeping your body slim and at the same time beautify your skin.
Body Weight Loss:
Burns fats up until 600 calories per usage
"Melts' cellulite from the outside (as if you have been jogging as far as 5 km)
Very effective for weight loss program
Health :
Reduce pain in body parts, nerve system, muscles, bones, etc.
Relief stress and relaxing the muscles
Increase cardiovascular system and body immunization
Flush out toxins in the body such as aluminum, cadmium, mercury and lead.
Increase body metabolism and speed up blood flow.
To break excessive fats into smaller pieces, reduce heart problems, stroke, high blood pressure and anti-aging. 
Beauty:
Beautify the skin:
Burn fats around the tummy and tighten the stomach
Reshape the body and buttock in a safe and natural way
Mothers In Confinement:
Help makes the tummy, thigh and womb smaller.
Helps heal inner-side of the body (wounds and pains) and makes mothers more energize and health
Can be used as modern method for 'bertungku' (electronically)
Important!
Before wearing the sauna pants, you must wear a cotton pants and never ever wear the sauna pants alone without any cover to the skin.
Advisable wearing Sauna Pants in STANDING position to avoid pressuring on internal controller (such as sitting, lying).
DO NOT put on lotion or cream onto the skin while using the sauna pants because the pores will open wide and this can cause irritation to the skin (allergies/itchiness).
DO NOT use the sauna pants at least 2 hours after you have your meal.
One session each day is good enough. Use the sauna pants for a maximum of 30 minutes in one session will do.
Do not use the sauna pants for more than 50 minutes at one time.
Do not continuously use the Sauna Pants after a session as this might shortening the Sauna Pant's life time.
Do not wear it too tightly. This is to ensure you will get the sauna effect effectively. Make sure the pants cover your abdomen, buttock and thigh.
Please Click LIKE to support this site. Thank You.
All our product come with original Packing & Accessories.

 (unless specified)

Price subject to change without prior notice.
Combine shipping for buyer purchase more than one item,save your shipping charges, but it depend on your delivery location area.
Combine shipping charges varies according to item's weight and size.
We courier to every state of Malaysia :- Johor, Kedah, Kelantan, Melaka, Negeri Sembilan, Pahang, Perak, Perlis, Pulau Pinang, Selangor, Kuala Lumpur, Terengganu, Sabah & Sarawak.
Other countries please contact us for more information.
Semua produk kami datang dengan pembungkusan & aksesori  asal (melainkan dinyatakan).
Harga tertakluk kepada perubahan tanpa sebarang notis.
Membeli lebih dari 1 barang,anda boleh menggabungkan 1 kos penghantaran.
Penghantaran produk kesemua negeri di Malaysia iaitu Johor, Kedah, Kelantan, Melaka, Negeri Sembilan, Pahang, Perlis, Pulau Pinang, Selangor, Kuala Lumpur, Terengganu, Sabah & Sarawak.