Japan 4 Step Shape Burner Tummy Slimming Belt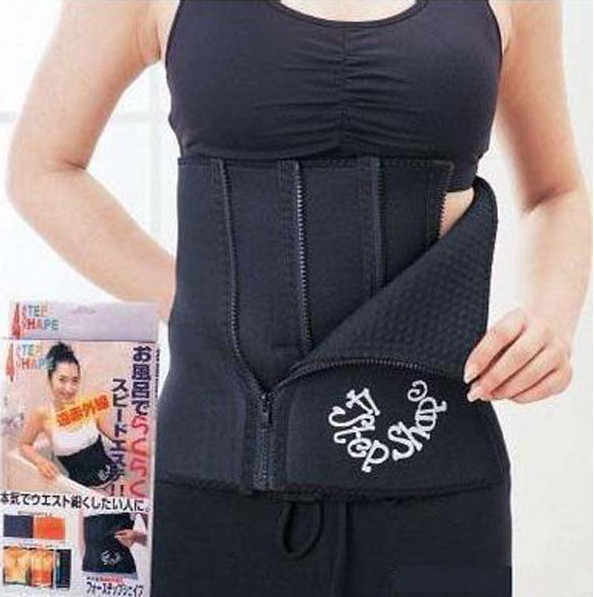 There are 4 zips on the product. It fits for waistline from 56 cm to 98 cm. 
In winter, it helps keep you warm. In summer, it helps you lose weight quickly if you wear it and take exercises.
4 Step Shape Tummy Wrap
 Best Choice Wear in Exercise

Slimmer Belt with Zippers

Washable & Reusable

4 Steps can change to fit XS to L size. Far infrared to keep warm

Step

First(XS)

Second(S)

Third(M)

Fourth(L)

Waistline

56cm - 65cm

64cm - 76cm

73cm - 87cm

82cm - 98cm

Colour

Black

Material

Neoprene

Time Using

10mins - 20mins (Depend on you)
Description :
Burn excess fat for waistline reduction

Made of high quality Neoprene with Far Infrared Ray for inner side of the belt, comfortable to wear.

Helps retain body heat and increase perspiration to create sauna effect

Body Wrap creates sauna-action with the help of your bodyheat, helping you shed excess water as you go about your daily routine or exercise.

Undetectable under clothing, it has an instant slimming effect and helps support your lower back and improve posture.

Self-fastening closure adjusts to any waist

Body wrap to support your lower back and reduce pressure, helping to alleviate muscle strains or lumbar sprains.

Compression support provides stability and warmth, helping promote flexibility and reducing chance of further injury Contoured to increase comfort and fit well

This wrap maintains consistent support without feeling bulky or cumbersome

Easy to care for; rinse in warm water after each use to remove any body salt from the neoprene
How to Use :
Choose the zip which fits you best.

The duration of wearing depends on individuals and the time it is used. 

Normal duration is 3 - 4 hours.

Hand wash with lukewarm water (30℃). Dry in a cool dry place.
Please Click LIKE to support this site. Thank You.
All our product come with original Packing & Accessories.

 (unless specified)

Price subject to change without prior notice.
Combine shipping for buyer purchase more than one item,save your shipping charges, but it depend on your delivery location area.
Combine shipping charges varies according to item's weight and size.
We courier to every state of Malaysia :- Johor, Kedah, Kelantan, Melaka, Negeri Sembilan, Pahang, Perak, Perlis, Pulau Pinang, Selangor, Kuala Lumpur, Terengganu, Sabah & Sarawak.
Other countries please contact us for more information.
Semua produk kami datang dengan pembungkusan & aksesori  asal (melainkan dinyatakan).
Harga tertakluk kepada perubahan tanpa sebarang notis.
Membeli lebih dari 1 barang,anda boleh menggabungkan 1 kos penghantaran.
Penghantaran produk kesemua negeri di Malaysia iaitu Johor, Kedah, Kelantan, Melaka, Negeri Sembilan, Pahang, Perlis, Pulau Pinang, Selangor, Kuala Lumpur, Terengganu, Sabah & Sarawak.