Body Slimmer Massager Reduce Cellulite Legs Arms Thighs Hips Butt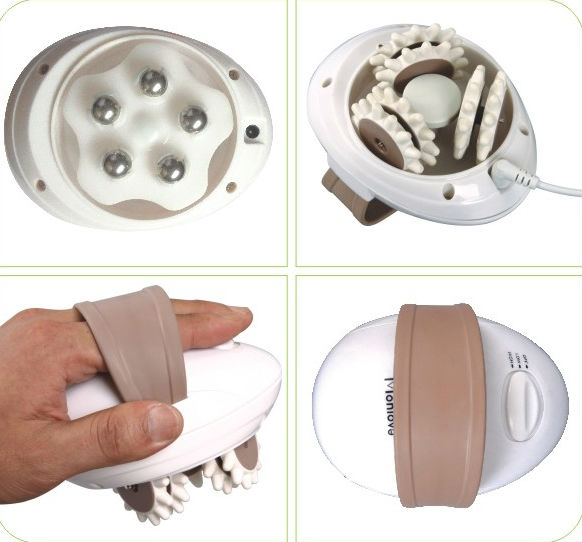 Body Massager
Together with the basic measures outlined above, massage is the best therapy for detaining the process of cellulite, restoring correct venous and lymphatic circulation and eliminating the fatty nodules which produce orange peel skin.
PRODUCT SPECIALITY 
Benice offers you the chance to enjoy a circulation-enhancing massage, particularly for cellulite, orange peel skin and loose connective tissue on the legs, upper arms and bottom.
 •Tighten your abdomen and Trim your waist
 •Helps to reduce cellulite
 •Restore your skin firmness and smoothness
 •Legs, Arms, Thighs, Hips, Buttocks
 •Ergonomic design: the device enables comfortable use at home.
 
15 minutes a day with Benice is a real aid to keeping fit and enjoying your wellness!
 
PROPER USAGE
 
This device is intended only for the massaging of individual parts of the human body. The device is for private use only and is not intended for medical or commercial purposes. It cannot replace medical treatment.
 
Safety information
•Keep the unit and its packaging materials away from children
•Keep the unit, power supply and the cable away from water, damp or other liquids
•NEVER use in bath, sauna, etc
•Users with below conditions should avoid using;

Heart disease and/or with assistive cardiac devices

Sensitive skins

Pregnant and during menstruation

Lung/tumor disease

High/low blood pressure

Other disease that can be fatal

Avoid using on heart, head (face), navel

Do not use more than 30 mins overall/ One body part 5 mins
Get yourself back into shape with an easy-to-use yet effective Ergonomic Body Slimmer. Now you can wear those cute pair of daisy dukes with pride and show off those sexy curves.
PACKAGE CONTENT
 •Body Slimmer
 •AC/DC Adaptor
 •Wheel Massage Rollers
 •Instruction Booklet
Please Click LIKE to support this site. Thank You.
All our product come with original Packing & Accessories.

 (unless specified)

Price subject to change without prior notice.
Combine shipping for buyer purchase more than one item,save your shipping charges, but it depend on your delivery location area.
Combine shipping charges varies according to item's weight and size.
We courier to every state of Malaysia :- Johor, Kedah, Kelantan, Melaka, Negeri Sembilan, Pahang, Perak, Perlis, Pulau Pinang, Selangor, Kuala Lumpur, Terengganu, Sabah & Sarawak.
Other countries please contact us for more information.
Semua produk kami datang dengan pembungkusan & aksesori  asal (melainkan dinyatakan).
Harga tertakluk kepada perubahan tanpa sebarang notis.
Membeli lebih dari 1 barang,anda boleh menggabungkan 1 kos penghantaran.
Penghantaran produk kesemua negeri di Malaysia iaitu Johor, Kedah, Kelantan, Melaka, Negeri Sembilan, Pahang, Perlis, Pulau Pinang, Selangor, Kuala Lumpur, Terengganu, Sabah & Sarawak.