Home
How to Buy/Payment/Shipping
About us
sme6688@gmail.com
4 in 1 Power Perfect Pore Facial Cleaner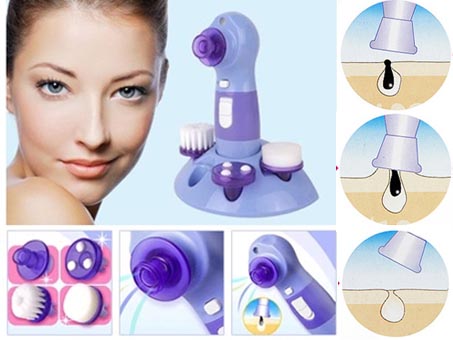 Power Perfect Pore (Facial Kit) is perfect solution for clean, clear and fair skin. No Blackheads, No Pimples, No Dark Circles, No Wrinkles. Power Perfect Pore is easy to operate. It Cleans & Clears the skin.

FEATURES:

· Ergonomically designed suction cup. Removes black heads without hurting your skin with hard squeezing.

· Face Suction Cup Cleans pores and black heads from your skin by its suction technology.

· Contour Massager tones face muscles, stimulate blood vessels and thus improve blood circulation.

· Cleaning Sponge Helps you to spread facial cream evenly on your face to get maximum benefits of it.

· Exfoliation Brush with mist function renews skin by removal of dead cells of face and makes your skin glow.

· Discover cleaner, clearer Skin in just weeks.

· Powerful suction without squeezing or pulling skin.

· Easy & handy to operate

· Operating by 2 X AA Size Battery (Not Included)



EXFOLIATION BRUSH--Use this brush to make the exfoliating treatment first and then following with the pore cleaning



CLEANING SPONGE--Use this sponge for clean your face with cleanser



FACE SUCTION CUP--Use this attachment to remove the blackheads or whiteheads



CONROUE MASSAGER—Use this attachment for gentle massage your face



PRECAUTION:

· For best result, please apply this Face Care System machine after shower/bath or washing face with warm towel.

· For using the Face Suction Cup. Do not stay for particular one spot over 10 seconds.

· Must not be used over-infected or inflamed areas or skin eruptions.

· Remember to remove all the battery after used the Face Care System.

· Suggest you to use the alkalin battery for better performance.

All our product come with original Packing & Accessories.

 (unless specified)

Price subject to change without prior notice.
Combine shipping for buyer purchase more than one item,save your shipping charges, but it depend on your delivery location area.
Combine shipping charges varies according to item's weight and size.
We courier to every state of Malaysia :- Johor, Kedah, Kelantan, Melaka, Negeri Sembilan, Pahang, Perak, Perlis, Pulau Pinang, Selangor, Kuala Lumpur, Terengganu, Sabah & Sarawak.
Other countries please contact us for more information.
Semua produk kami datang dengan pembungkusan & aksesori  asal (melainkan dinyatakan).
Harga tertakluk kepada perubahan tanpa sebarang notis.
Membeli lebih dari 1 barang,anda boleh menggabungkan 1 kos penghantaran.
Penghantaran produk kesemua negeri di Malaysia iaitu Johor, Kedah, Kelantan, Melaka, Negeri Sembilan, Pahang, Perlis, Pulau Pinang, Selangor, Kuala Lumpur, Terengganu, Sabah & Sarawak.